Best of DragonBall Z Volume V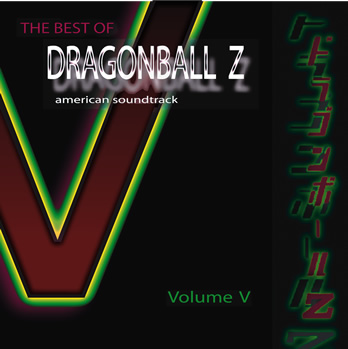 The request line is open and we are filling your DBZ playlist right here!
Great news! The Ginyu Force has arrived to scope out the incredible power of this DBZ Volume. Your favorite characters and missed scenes are mastered here for maximum energy. This is your Spirit Bomb — its the power of all your emails, telephone calls, and letters asking me to release these DBZ tunes.
Hey! Am I as bad as Goku in getting this thing released at last or what! So I'm finally launching this CD and hope its a blast for you!
DragonBall Z rocks and you rule! Your power levels have made DragonBall Z rise to its place in TV history, being one of the very few shows dominating the competition to reach the pinnacle of being a number one show on Cartoon Network as well as all Cable TV Networks.
KAMEHAMEHA!!! ... and thanks again.
DBZ FANS ROCK!
Track List
1 GOKU VS. JEICE & BURTA
2 GINYU FORCE THEME
3 PICCOLO AND NAIL FUSE
4 GOKU'S NIGHTMARE
5 GURU'S THEME
6 SAY GOODBYE TO NAMEK
7 MR. SHU'S LESSON
8 MR SHU'S S&M CLASS
9 COPS ARRIVING
10 BLOWING UP THE LAB
11 GOKU'S DREAM
12 HEAVEN SENT TRUNKS
13 BULMA'S CAR / 20 ESCAPES
14 EPISODIC TRUNKS
15 KRILLIN AND TRUNKS ARRIVE
16 TOURNAMENT MARCH
17 JAZZY TUNES
18 GOKU VOLUNTEERS GOHAN
19 KING YEMMA
20 PTERODACTYL ATTACK
21 GOHAN AND GREASERS
22 CHICHI AND VIDEL
23 GOHAN RUINS THE SHOT
24 BRASS FANFARE
25 BRIEFS II.
26 HERCULE'S ORCHESTRA
27 FACE-OFF
28 BRIEFS III.
29 18 MAKES A DEAL
30 DOUBLER DOES KABITO
31 YACON BLOWS
32 SHIN PANICS
33 TURNED TO STONE II.
34 FULL POWER
35 VEGETA STOPS
36 VEGETA FOOLS GOKU
37 BOYS FLYING
38 GOTENKS IS BORN
39 GOHAN APPROACHES
40 INTRO TO FINALE AND CLOSING MUSIC